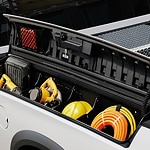 The Ram 2500 is a heavy-duty pickup truck that's proving itself to be one of the premier trucks on the market. Here at Lithia Chrysler Jeep Dodge of Great Falls, we regularly get questioned by interested people about what exactly the Ram 2500 has to offer, so we figured it was about time we filled everybody in on its durability features.
The Ram 2500 comes equipped with a steel frame that's made to withstand 50,000 PSI. It is built to be as strong and efficient as possible, which is apparent once you see it in person. Another durability feature worth mentioning is the clear faith that Ram manufacturers have in their vehicles - the Ram 2500 comes with a five-year limited warranty on its powertrain, meaning you won't have to worry about vehicle failure for some time.
To indulge in a test drive of the Ram 2500, come by Lithia Chrysler Jeep Dodge of Great Falls whenever you have some free time.